San Antonio Basin Groundwater Sustainability Agency
The San Antonio Basin GSA (SABGSA) is a public agency formed by a joint powers authority between Cachuma Resource Conservation District and the Los Alamos Community Services District. The agency was formed in June 2017 to sustainably manage groundwater in the San Antonio Creek groundwater basin.
During development the GSA working group was comprised of the County Water Agency, Los Alamos Community Services District (LACSD), Vandenberg Air Force Base (VAFB), and the Cachuma Resources Conservation District.
---
APPLICATIONS are being accepted for a consultant for Cost of Service and Fee Assessment Analysis. Deadline is January 15, 2019. Go to application.
APPLICATIONS are being accepted for volunteers to serve on the Groundwater Sustainability Plan Advisory Committee. READ MORE >
Meeting Agendas
---
SABGSA Boundary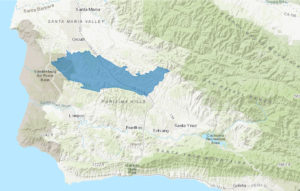 (click on the map for a larger view)