About
The San Antonio Basin GSA (SABGSA) is a public agency formed by a joint powers authority between Cachuma Resource Conservation District and the Los Alamos Community Services District. The agency was formed in June 2017 to sustainably manage groundwater in the San Antonio Creek groundwater basin.
San Antonio Basin GSA Board Members
Kevin Barnard
Brandy Branquinho
Tom Durant
Pat Huguenard
Kevin Merrill
Kenny Pata
Randy Sharer
Chris Wrather
Alternates
Leonard Bileti
Dan Chabot
Rob Ferini
Bart Haycraft
Steve Lyons
Patrice A Mosby
Andy Rice
Marvin Teixeira
SABGSA Boundary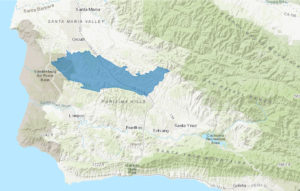 (click on the map for a larger view)
---
Transparency
Transparency is a key element of public trust and confidence. We are committed to sharing information with the public about our operations and decision-making processes.
---
If you are interested in serving on the Groundwater Sustainability Plan Advisory Committee, please Contact Us